Fall 2017 Winners:

DSRPTN
First place – $2000 and a Scholarship to Venture School
Yash Gupta '20, Nicole Nie '19, Papa Kojo Ampim-Darko '19
DSRPTN is a web application that facilitates rapid application development by use of a WISIWIG/Drag and Drop HTML5 editor and a native app wrapping system. Users create rich, full featured HTML5 web apps and DSRPTN creates websites, native iOS and android applications, and desktop programs for PC, MAC, and Linux.

Doorway
Second Place – $1000
Gracee Wallach 20, Henry Bolster '18, Emmet Sandberg '18
Doorway  is a location-based canvassing app that simplifies and personalizes political activism. We empower normal people to get involved in making a difference and enable campaigns to intelligently interact with their supporters — all powered by data.

Roots
Third Place – $500
Julie Echikson '20, Alden Wahsono '20
Roots is a vegetable based nutritional snack bar, which has about 100 calories and 0g of sugar.
Spring 2017 Winners:

Bail abolition network
First place – $2000 and a scHOLARSHIP TO VENTURE SCHOOL
Dylan Ambrosoli '18, Nathan Calvin '18, Nomalanga Shields '18 and Myles Becker '19
The Bail Abolition Network is a consultancy that helps communities create local nonprofit bail funds and advocates for bail policy reform.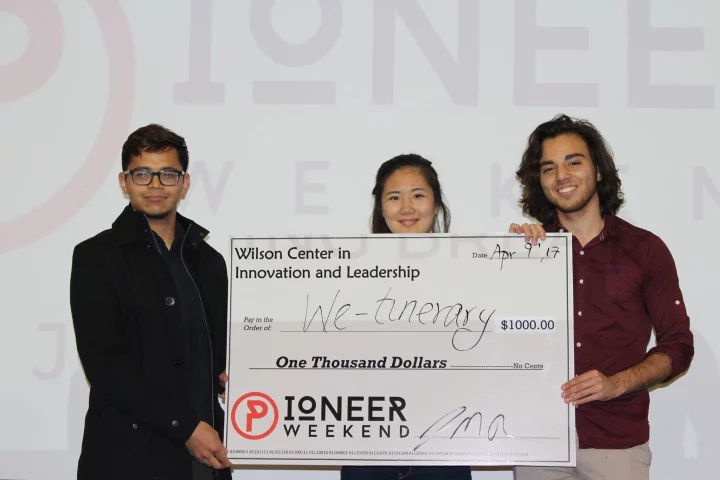 We-Tinerary
Second Place – $1000
Yazan Kittaneh '17, Yuxi Deng '18 and Nripesh Pradhan '18
We-tinerary is a website platform that help students organize their road trips by using our cutting-edge algorithm to find like-minded people to travel together. After the pals matching part, we have unique tool set to keep track of the progress of trip planning, which includes checklist, automatic recommendation, itinerary, voting system and so on.
Why Eye Care
Third Place – $500
Sage Kaplan-Goland '20, Halle Remash '20, Marli Remash '20, Taryn Washburn '20
Why Eye Care would be a manufacturer of the machines which perform cataracts surgery more cheaply than current manufacturers by using innovations in laser technology. The organization has long term goals of aiding humanitarian efforts to cure blindness by making the cataracts procedure more accessible and distributable.